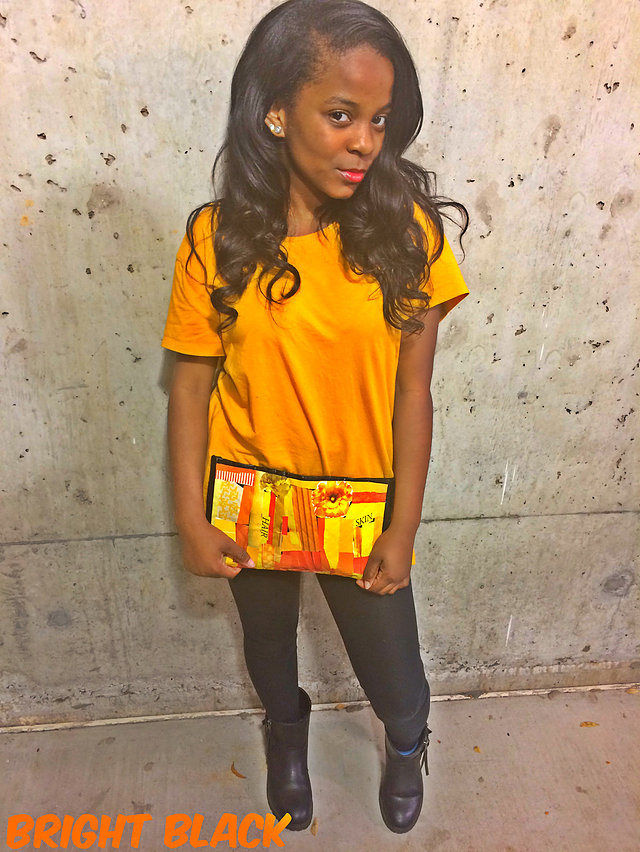 If you have not heard about the trend of recycling and reusing then you have been living under a rock. Iya Graves, Founder of Bright Black, has taken this trend and creatively established an artistic line of handbags.
The line of clutch bags are each uniquely designed with a theme and created from magazines. It is an amazing combination of art and fashion at its best.
"My mom is an artist so I always grew up with art around me and I attended a school with an entrepreneurial program which gave me the motivation to start this", stated Iya.
Her line of clutch bags came to mind when she was assigned a project to create a business to sell products to customers.This was a perfect way to combine her passion for art and fashion with the entrepreneurial skills she was learning from the program.
"It was really like a spur of the moment kind of thing because my love for fashion has always been there."
Bright Black started in January of 2016 and throughout the last year she has been promoting and selling her many exclusive pieces. Each of the bags are unique and have a theme because each are created with related images from magazines to tell a story.
"I push for my brand to be different and each bag to be different because i want my customers to express themselves and connect to their own sense of style."
Bright Black is only in the first phase of its career as a brand and Graves told IndahouseMedia that there will be more to look forward to. In the next year phase two will involve an expansion of the brand to creating t-shirts, chokers, and apparel for customers.
"If you want to do something just do it," is the motto that Iya Graves live by and encourages others who have business ventures in mind to do the same.
When asked if Iya could choose someone to be the face of her brand, she selected Rihanna because of her expressive and unique style.
This young woman is already learning the ins and outs of owning your own brand and with Bright Black this is why we believe Iya Graves is "ON THE RISE"
Click Here to shop Bright Black